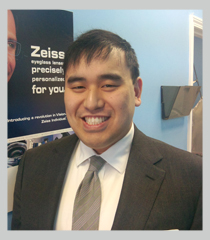 Dr. Lambert Duong
Therapeutic Optometrist, Optometric Glaucoma Specialist
Dr. Lambert Duong is originally from Wichita, Kansas. Dr. Duong graduated with Honors and Distinction from the University of Kansas with a Bachelor of Arts in Biology. He received his Doctorate of Optometry degree from the University of Houston College of Optometry. He enjoyed the rich variety of experiences Houston had to offer and decided to make the Houston area his home.
Dr. Duong is a licensed therapeutic optometrist and optometric glaucoma specialist. Dr. Duong's optometric internships were heavily focused in primary care, contact lenses, and binocular vision.
Dr. Duong is a member Beta Sigma Kappa International Optometric Honor Society, as well as a member of the Texas Optometric Association and the American Optometric Association. In his spare time, he enjoys jazz music, automobiles, exercising, and reading.